Medium-format events
Located at the South Gate next to the metro station, it has an Auditorium for 600 people and a lobby which is for cocktails and coffee breaks.
There are twenty other small rooms close to the auditorium.
It is the perfect location for holding shareholders meetings, assemblies and conventions.
Additionally, on the first floor, we have eleven modern rooms suitable for small exhibitor meetings.
CCS 2019 Rates and Capacities
Image Gallery - South Convention Centre
South Convention Center map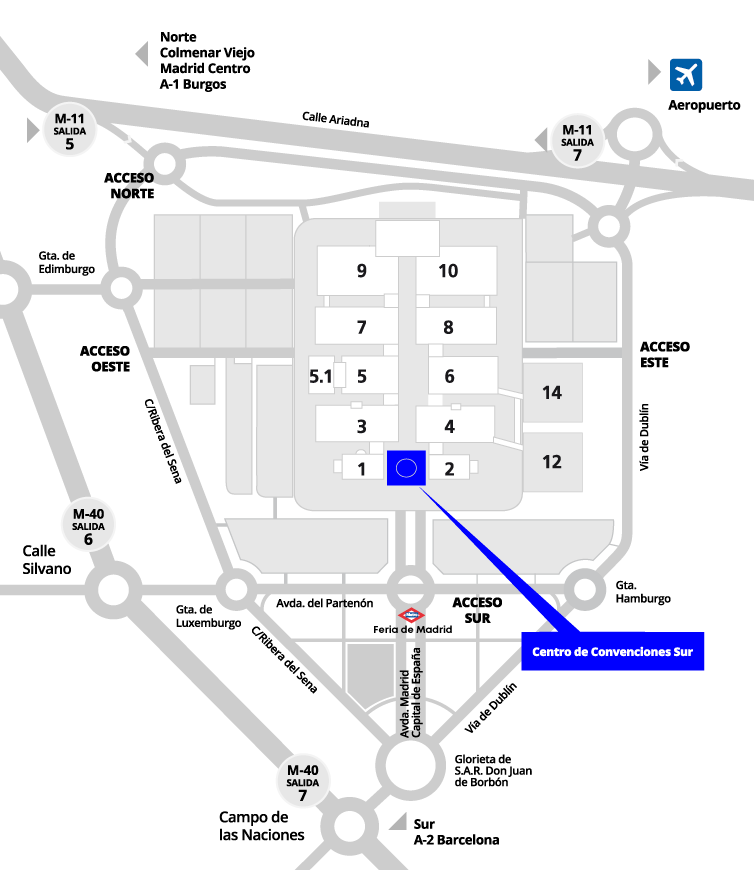 How to get there?
Metro
The nearest Metro station to IFEMA is Feria de Madrid (line 8: Nuevos Ministerios-Aeropuerto T4). The exit is opposite IFEMA's South entrance. This line connects the venue to the different terminals of Madrid-Barajas Adolfo Suárez airport.
Line 8 connects with other Metro routes at Nuevos Ministerios, Colombia and Mar de Cristal stations, which offers excellent connectivity to and from anywhere in Madrid.
Bus
Madrid's extensive bus network allows you to get to Feria de Madrid from anywhere in the city.
There are two urban bus routes operated by the Municipal Transport Company (EMT):
Line 73: Diego de León - Feria de Madrid
Line 112: Mar de Cristal-Barrio del Aeropuerto
Line 122: Avenida de América-Feria de Madrid
Intercity buses:
Line 828: Universidad Autónoma-Alcobendas-Feria de Madrid-Canillejas.
Air
Madrid-Barajas Adolfo Suárez airport is just ten minutes away from the trade fair venue and just 15 km from the city centre, all connected via the Metro (Airport Terminal 1, Terminal 2 and Terminal 3 and Terminal 4 stations). It has become one of the world's main airports, and its innovative Terminal 4 station gives Feria de Madrid daily connections to all cities in Spain and around the world.
Car
Feria de Madrid has road connections to Madrid's main access and ring roads: M11 (exits 5 and 7), M40 (exits 5, 6 and 7) and A2 (exit 7). The South, North and East entrances of the fairground give direct access to the different parking areas.
Suburban trains
From the Nuevos Ministerios station there is a direct connection with line 8 of the Metro.