Multifunctional and flexible
Located next to halls 9 and 10 in the North Gate building, it has an area of 10,000 m2 and has a total of 20 rooms, 18 of which are located on the first floor. It is accessed by a large hall with natural light, whose size makes it the ideal space for exhibitions of 1800 m2 gross or 468 m2 net (space for stands) or to offer catering services during the event.
The North Auditorium (N103 + N104 + stage) has capacity for 1,100 people. Rooms N101 + N102 and N105 + N106 are multifunctional. Separating panels allow events from 100 to 480 people to be hosted. The remaining 12 rooms (N107 to N118), with capacities of 70 to 200 people, can be combined in sets of two, allowing better adaptation to the needs of the event.
On the second floor, the Colón and Neptuno rooms are also equipped with large outdoor terraces.
CCN 2019 Rates and Capacities
Image gallery - North Convention Center
Plano Feria de Madrid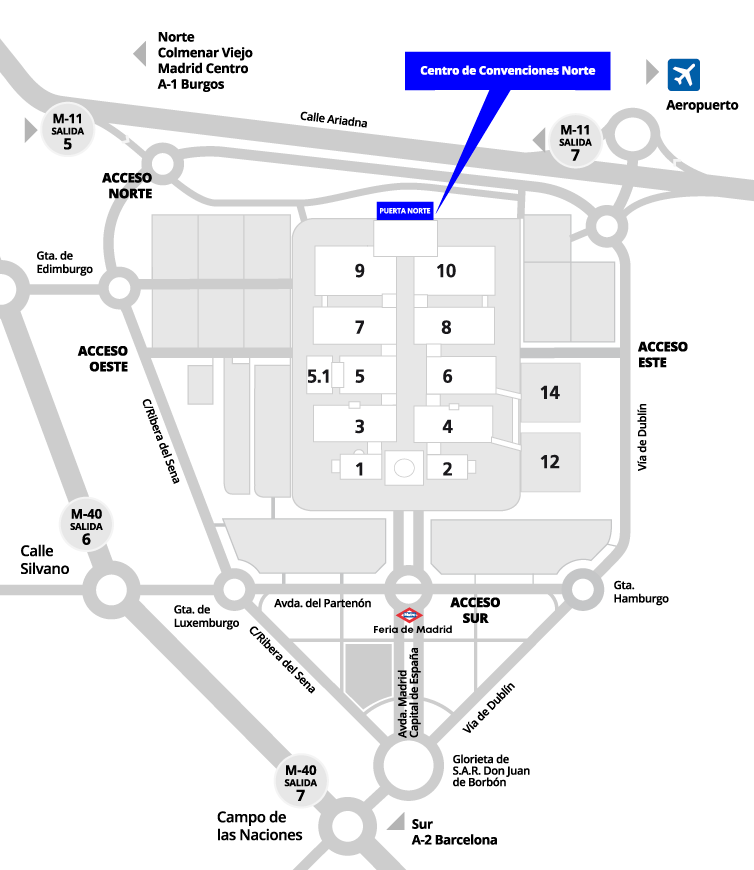 How to get there?
Metro
The nearest Metro station to IFEMA is Feria de Madrid (line 8: Nuevos Ministerios-Aeropuerto T4). The exit is opposite IFEMA's South entrance. This line connects the venue to the different terminals of Madrid-Barajas Adolfo Suárez airport.
Line 8 connects with other Metro routes at Nuevos Ministerios, Colombia and Mar de Cristal stations, which offers excellent connectivity to and from anywhere in Madrid.
Bus
Madrid's extensive bus network allows you to get to Feria de Madrid from anywhere in the city.
There are two urban bus routes operated by the Municipal Transport Company (EMT):
Line 73: Diego de León - Feria de Madrid
Line 112: Mar de Cristal-Barrio del Aeropuerto
Line 122: Avenida de América-Feria de Madrid
Intercity buses:
Line 828: Universidad Autónoma-Alcobendas-Feria de Madrid-Canillejas.
Air
Madrid-Barajas Adolfo Suárez airport is just ten minutes away from the trade fair venue and just 15 km from the city centre, all connected via the Metro (Airport Terminal 1, Terminal 2 and Terminal 3 and Terminal 4 stations). It has become one of the world's main airports, and its innovative Terminal 4 station gives Feria de Madrid daily connections to all cities in Spain and around the world.
Car
Feria de Madrid has road connections to Madrid's main access and ring roads: M11 (exits 5 and 7), M40 (exits 5, 6 and 7) and A2 (exit 7). The South, North and East entrances of the fairground give direct access to the different parking areas.
Suburban trains
From the Nuevos Ministerios station there is a direct connection with line 8 of the Metro.