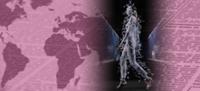 Andrew Pocrid and Simorra, the latest to join MBFWMadrid
• The Cordovan designer, Andrés Pozuelo, and the firm, Simorra, close out the schedule of creators who will show at IFEMA MADRID from Thursday the 14th to Saturday the 16th of September
MBFWMadrid adds the last two names – Andrew Pocrid and Simorra – to the official schedule of the next event. Both join the 19 other designers already confirmed in the last month, thereby composing the official poster for edition number 78. This new event of national fashion, organised by IFEMA MADRID, will be held from 13 to 17 September in Hall 14.1 of the Recinto Ferial and at unique locations in the city of Madrid.
The firm created by the young Cordovan, Andrés Pozuelo, will be making its debut at MBFWMadrid. He studied design at Istituto Marangoni Milano in Italy, having been a fashion enthusiast since he was a child. Upon returning from Milan, he succeeded in making his firm one the most sought-after ones on the red carpets of Spain. Andrew Pocrid applies its sophisticated designs and top-quality materials to clothe strong-willed and self-assured women, while using patterns that highlight their figures with elegance and heightened sensuality. Some of Andrew Pocrid's headline celebrities include Aitana Sánchez-Gijón, Elena Rivera, Nieves Álvarez, Carmen Lomana, Paula Echevarría and María Pombo.
Joining that firm is Simorra, recognised as one of the most traditional firms in this country. Simorra is coming to the MBFWMadrid fashion show for the first time to present its new proposal to the general public for the 2024 spring-summer season under the creative guidance of Victoria Mitjans. For Simorra, the architecture of materials is not only a key element for sustainable design but also a path to experimentation. The material is what gives shape, depth and concept to Simorra's designs, which are based on elegance, style and simplicity, consequently creating garments especially designed to respond to a contemporary, transgenerational society.
MBFWMadrid will be celebrating its 78th edition with the presence of 16 sponsoring firms. Mercedes-Benz, L'Oréal Paris and Inditex are the main sponsors. Allianz, Iberia, Multiópticas, Galería Canalejas, Four Seasons Hotel Madrid and GHD will likewise participate as sponsors. Collaborators will include Dorsia Clínicas, AEG, Community of Madrid, the Italian Fashion School POLIMODA, Mar de Frades, Martin Miller's Gin and Málaga de Moda, together with the corporate identity of the Provincial Government of Málaga, the University of Design and Technology (UDIT), Rowenta and Schweppes Selection, with Solán de Cabras as the official water.