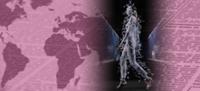 Mercedes-Benz Fashion Week Madrid renews collaboration with ¡HOLA! TV as International TV Partner
• The collaboration with the Miami television network continues for another edition, thanks to the great reception of the event among the American audience.
¡HOLA! TV is once again set to be the international television partner for Mercedes-Benz Fashion Week Madrid (MBFWMadrid), which will take place from September 13th to 17th, 2023, at the IFEMA MADRID Trade Fair Center and other locations throughout the city of Madrid.
The daily program LA HORA ¡HOLA! will cover everything happening at MBFWMadrid during the celebration days and will continue on Monday, September 18th as a closing of this important event. The channel's well-known journalist, Lucía Riaño, will conduct live connections from Madrid on a television set located in the Cibelespacio, MBFWMadrid's social area, where all attendees will be able to watch her live interventions during the program.
Additionally, the program hosted by Natasha Cheij will feature two specials on Saturdays September 16th and 23rd, within the show "Lo mejor de LA HORA ¡HOLA!', focusing on the highlights of MBFWMadrid. Similarly, ¡HOLA! Fashion, the exclusive space for fashion, beauty and lifestyle on ¡HOLA! TV, will produce two programs entirely dedicated to this grand fashion showcase, airing on Thursdays, September 21st and 28th.
MBFWMadrid will be supported by fifteen leading firms in the corresponding sectors: Mercedes-Benz, L'Oréal Paris and Inditex as main sponsors. Likewise, Allianz, Iberia, Multiópticas, Galería Canalejas, Four Seasons Hotel Madrid and GHD will participate as sponsors. Dorsia Clínicas, AEG, Comunidad de Madrid, Mar de Frades, Martin Miller's Gin, Málaga de Moda together with the corporate identity of Diputación de Málaga, UDIT Universidad de Diseño y Tecnología, Rowenta, Schweppes Selection as collaborators and Solán de Cabras as official water supplier.