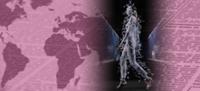 MBFWMadrid Presents its New Fashion Committee
The Fashion Committee is the advisory body of the MBFWMadrid catwalk which, among other functions, assesses the applications and collections of the designers participating in each call and ensures transparency in the procedures to participate in MBFWMadrid.
Eleven great professionals with extensive experience connected to the fashion industry comprise the new Fashion Committee of the MBFWMadrid Catwalk. This renewal, taking place on a regular basis, is part of IFEMA's regulations regarding the creation of expert committees whose objective is to provide specialized advice in the different sectors with which the trade fair institution cooperates for its various fairs and events.
As has been the case until now, the Fashion Committee will continue to apply the criteria of quality, business structure and communication and marketing as a guide to assess the presence of each of the designers participating in MBFWMadrid, whose next edition will be held from 8 to 11 April in IFEMA's 14.1 Pavilion. The new Committee's advisory tasks include advising the management of MBFWMadrid on the contents of each edition, as well as on the implementation of actions aimed at expanding the national and international dissemination of the event.
The new MBFWMadrid Fashion Committee is comprised of 11 industry professionals, endorsed by their extensive experience in the fashion world, as well as their professionalism, recognition and experience in the sector.
The members of the Committee are the following: Ainhoa García, manager of LOEWE's Prêt-à-porter Business Unit; Javier Goyeneche, founder of Ecoalf; Pepa Bueno, executive director of ACME; Giuseppina Lara, managing director of Instituto Europeo di Design- IED Madrid; Miren Vives, director of the Cristóbal Balenciaga Museum; Francesco Malatesta, director of Men's Tailoring at Grupo Mirto; Esther García, founding partner as well as artistic and casting director of ESMA Events; Jesús María Montes-Fernández, director of the programs Flash Moda and Flash Moda Monográficos on RTVE; Yolanda Sacristán, founding partner and general content director of The NewsRoom Digital Group; Águeda Amiano, fashion director and partner at Pelonio Comunicación, and Eduardo Zamácola, president of Acotex. In addition, Nuria de Miguel, director of MBFWMadrid, assumes the role of Committee Secretary, as detailed in the bylaws for the formation of the Fashion Committee. In addition to these names, Concha Díaz de Villegas, General Director of Commerce and Entrepreneurship of the Madrid City Council, and Gonzalo Cabrera, General Director of Cultural Promotion of the Community of Madrid, will be included as institutional representatives.