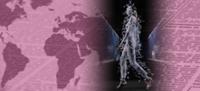 Madrid, epicentre of Spanish fashion
MBFWMadrid will once again make its mark on Madrid, making the city the epicentre of Spanish fashion This event, organised by IFEMA, will, as in previous years, remain open to the city, combining fashion shows at IFEMA with other activities at different locations in the Spanish capital.
The Community of Madrid contributes by encouraging and supporting the promotion of design and the creation of fashion during MBFWMadrid. And once again, it is doing so by helping designers exhibit their creations. This edition, it will host shows by three young designers taking part in the general schedule of this event at the Real Casa de Correos in the Puerta del Sol, seat of Madrid's regional government. This time, three previous winners of the Who's on Next-VOGUE Awards have been selected, Leandro Cano, the most recent winner, and Juan Vidal and Manemané, who won in 2013 and 2015, respectively, will present their Autumn-Winter 2018/19 collections at Puerta del Sol on the evening of 25 January.
What's more, as part of its Madrid Capital de Moda [Madrid, Capital of Fashion] (MCDM) programme, Madrid City Council is directly promoting and supporting a series of fashion-related activities at different venues in Madrid. With the sponsorship of Foro de Empresas por Madrid, the Council has installed a screen in Plaza Margaret Thatcher, at the corner with Paseo de la Castellana, where you will be able to watch live the 67th edition of MBFWMadrid, organised by IFEMA, which will take place at Feria de Madrid, as well as other fashion projects.
The MCDM programme also supports the event "The New Showcase for Fashion" organised by Facebook/Instagram in collaboration with Mercedes-Benz Fashion Week, which will be held at the Caja de Música in the Palacio de Cibeles on Wednesday 24 January.
MCDM will also stream the shows and presentations that make up the MBFWMadrid calendar, which will be held at different venues in the city These include the presentation by Oteyza, which will be held at Matadero Madrid, as well as Pedro del Hierro's show at the Museo del Ferrocarril; La Condesa's show at the Only YOU Boutique Hotel Madrid; the Moisés Nieto party at Club Matador and the Palomo Spain show at the Teatro Real.
The Madrid Capital de Moda programme will also be featured on a selection of EMT (Madrid Municipal Transport Company) bus lines.
Sixth edition of Madrid es Moda
On top of all that, the Asociación de Creadores de Moda de España (ACME) is organising the sixth edition of the Madrid Es Moda (Madrid Is Fashion) programme. With this urban fashion initiative, ACME aims to help make the centre of the capital into a great exhibitor of creativity and design while MBFWMADRID is being held. This time, Madrid es Moda will welcome all expressions of fashion, with one thing in common: Spanish authorship. More information: www.madridesmoda.com.
Once again, the fashion shows will be broadcast on big screens at the Platea Madrid gastronomic and leisure centre at Plaza de Colón