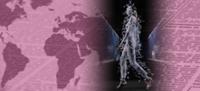 Allianz EGO, the emerging talent platform that encourages "creating something big" in MBFWMadrid
• Nine emerging designers will take the runway on Sunday, 17 September
Once again, MBFWMadrid is allocating Sunday to new talents through the Allianz EGO platform, confirming its role as a benchmark in the fashion industry. This new edition will continue to support emerging creators by encouraging them to "create something big". A total of nine designers show at a fashion extravaganza that will bring the runway to a climax with the presentation of new collections, some for the first time.
Binya will present "The Inner Self - The Beyond" collection, which follows a visual and aesthetic path where spirituality, mysticism and the power of being connected to something that goes beyond rational understanding are expressed in garments that represent past times, and also the future, which attaches the skin every intangible symbol that gives light to what we truly have inside.
In this edition, Boltad is working on his purpose to change his perspective of teenagers through an artistic narrative that will highlight the author's talent with reflections on his current experience living in New York. The designer won the Mercedes-Benz Fashion Talent award in September 2022 with his "Suddenly Freezes" collection.
Corsicana will be back on the Allianz EGO catwalk with a collection inspired by a trip to Corsicana (Texas), after which the project is named. It is very close to Paris, a city that inspires the journey to the origins of Travis, the star of the film of the same name by Wim Wenders: "Paris, Texas". It establishes a parallelism between the storyline and aesthetics to create a Corsicana universe of its own.
Crack. The collection concept is based on leaving your hometown and sacrificing your comfort zone in search of a dream. This feeling of uncertainty and of starting from scratch in a new place is expressed with garments in dark tones, clinging to the body, as well as pieces that bring this feeling of uncertainty.
Emeerree launches its 'Reunion' proposal, which aims to create an atmosphere of distraction that evokes the feeling of getting together with a group of people who, more than friends, are family. The idea of family inspires the new collection as a simile of the group of people who are closest to the brand.
Georgiela Studio prepares the "Dear g" collection with a sporty touch, bringing luxury and feminine fashion to comfort and streetwear while using neutral colours and white with a silver logo. The firm works with retro-futuristic, avant-garde and timeless designs, reusing fabrics.
Likewise, Javier Guijarro presents Debut(i), his first collection on the Allianz EGO emerging talents catwalk. In this project, Javier investigates the identity codes of a brand that is gradually being built. He works with fabrics, elements and typical garments that have always belonged in the male wardrobe, now applied to new silhouettes and atmospheres.
Tíscar Espadas. The winner of the last edition of the Allianz EGO Confidence Fashion Award will take the new CHAPTER V collection to the catwalk, the result of a successful integration of traditional craftsmanship with innovation. This collection of garments bears the mark of human craftsmanship and attention to detail, creating a sense of individuality and uniqueness in each piece.
And finally, Vivori, walking on the Allianz EGO catwalk with OMUH, with a collection inspired by everything we feel and do not see, for example, energies, thermal sensations, light, smoke and smells. Sustainability is at the heart of a collection of totally unisex designs.
Allianz's participation in MBFWMadrid reflects its commitment to supporting these creators at this exciting time in their careers. As part of its new "Create something BIG" positioning, the company seeks to give voice to the creative and entrepreneurial vision of the young designers at Allianz EGO: creative people who, through their designs, guarantee a prosperous future for Spanish fashion.
The day will start with the presentation of the Allianz EGO Confidence in Fashion Award and will culminate with the presentation of the Mercedes-Benz Fashion Talent Award. The winning company of this 22nd edition will show at Mercedes-Benz Prague Fashion Week.
The 78th edition of MBFWMadrid will have 17 sponsors. Mercedes-Benz, L'Oréal Paris and Inditex are the main sponsors. Allianz, Iberia, Multiópticas, Galería Canalejas, Four Seasons Hotel Madrid and GHD will participate as sponsors too. The collaborators will be Dorsia Clínicas, AEG, Community of Madrid, the Italian Fashion School POLIMODA, Mar de Frades, Martin Miller's Gin, Málaga de Moda together with the corporate identity of Provincial Government of Málaga, UDIT University of Design and Technology, Junta de Castilla y León, Rowenta, Schweppes Selection and Solán de Cabras as official water.