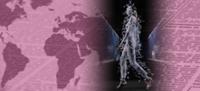 Mercedes-Benz Fashion Week Madrid Feb23: reflects identity and diversity in Spanish fashion
• 42 designers presented their 23/24 autumn/winter collections at the five-day event • A reinvented Cibelespacio inspired by the Labyrinth of the Minotaur delighted and entertained fashion fans • Every detail of MBFWMadrid was captured by more than 1,000 journalists and photographers and more than 50 Instagrammers and TikTokers
The official line-up for the 77th MBFWMadrid, organised by IFEMA MADRID with support from Madrid City Council, featured collections by 42 designers: 9 OFF - hosted in a variety of venues throughout Madrid, 22 creators from Thursday to Saturday, and 11 newcomers on the Allianz EGO catwalk, presented their creations at IFEMA MADRID. Expectations were high among the 800 guests invited to each show (including the attentive following of 200 accredited journalists per session) for the autumn/winter 23/24 season.
Collections with identity and diverse models
This fashion week was an event to remember, with the designers' identities more patent than ever before, and the cast of models a mirror image of society and a banner for diversity. According to Esther García, the casting director at MBFWMadrid, 'this fashion week was marked by the designers' identities. Despite all the collections being shown in the same venue, it was clear which garments belonged to each designer. That's crucial in a country's fashion industry, where designers need their own clearly defined hallmarks and identities'. Also, in an ode to diversity, L'Oréal Paris presented Walk your worth, a tribute to female empowerment.
Prizes
The L'Oréal Paris Award for the best collection was handed out on Saturday afternoon. It was won by the firm Isabel Sanchis, while the L'Oréal Paris Award to the best model went to Lorena Guitián.
Early on Sunday, the Allianz EGO Confidence in Fashion prize was awarded to the firm TÍSCAR ESPADAS. The designer from Úbeda will show her designs on the runway at the next edition of the Allianz EGO fashion show, and she will receive a €6,000 prize and professional advice for six months from the University of Design and Technology ESNE. For its part, the emerging firm AITORGOIKOETXEA with a collection entitled "Adarrak" was chosen as the winner of the 21st edition of Mercedes-Benz Fashion Talent, celebrating ten years supporting and giving exposure to new talent on the national scene.
Cibelespacio evolution
Expectations were also high from the redesigned Cibelespacio, which offered a range of activities to entertain and interest visitors: from a Labyrinth-of-the-Minotaur-themed gastrobar and Ariadna watching over everything happening in the space, to an area devoted to Drinks&Talks, where designers, influencers and fashion editors gave fascinating 30-minute afterwork-style talks on casual fashion, to courses on street harassment, presentations by elite stylists, prize draws for holidays, performances by DJs, and even the Allianz Showroom where 15 emerging designers showed their available-to-buy collections.
According to Ana Rodríguez, director of MBFWMadrid February 23: 'we want Cibelespacio to become that social area where you can go with friends to spend an entire day, whether or not you attend the fashion show, and that every experience you have shares fashion as a common thread. That's what we have done with this new incarnation of Cibelespacio and there's no question that we'll keep improving it".
Visits by Institutions
The 77th edition of MBFWMadrid received significant institutional support. For the first time ever, the catwalk received an unofficial visit from the President of the Government who attended with his wife, Begoña Gómez. In addition, during fashion week, several representatives of the national government visited the shows, such as the Second Vice-President of the Government, Yolanda Díaz; the President of the Congress of Deputies, Meritxell Batet; Miquel Iceta, Minister of Culture and Sports; Pilar Alegría, Minister of Education and Vocational Training; Reyes Maroto, Minister of Industry, Trade and Tourism... among other personalities of our country.
International ambitions
The official destination of this edition of MBFWMadrid was Morocco, which helped to spread the word about this fashion week beyond the borders of Europe with its commitment as a sponsor and with its fashion show Morocco, Kingdom of Light, when two of its most international designers showcased this country's cultural diversity. Maison Artc and Albert Oiknine.
This edition also saw the return of the ICEX international buyers' and the international press programme with outstanding guests like the editor in chief of L'Officiel Arabia. ¡HOLA! TV was back as the official international media, with a set in the Cibelespacio.
The Allianz EGO catwalk on Sunday was also closed by a Mexican designer, Lorena Saravia, who participated in the Mercedes-Benz Fashion talent exchange.
Enormous media and digital impact
Yet another year, this fashion week has succeeded in attracting media attention, with more than 7,000 news impacts reaching an audience of 5.4 billion. The official hashtag #MBFMadrid made almost 2.5 million impressions in this Fashion Week's social networks. The frenetic activity of this community during the event added 400,000 users to their its followers. These results have been achieved with extensive broadcasting of the event and a record-breaking level of participation in the conversation by the attendees who have shared their experiences of the shows, the front row, celebrities, influencers and well-known fashion personalities, talks, activities, street style and sponsors.
The fashion week digitalisation campaign also took off, thanks to the participation of influencers on Instagram and Tiktok such as @lolalolita, @_riverss, @dulceida, @sofiamoreno, @madame, @mariagdejaime…and many more.
Pilot project #ExperienciasMBFWMadrid
As regards #ExperienciasMBFWMadrid, a pilot project to measure interest in the show as an experiential and cultural event, this was extremely well received. More than 95% of tickets to the shows were snapped up within hours of becoming available on the official website of the event, indicating that society is very much attracted to the fashion world and the opportunity to reach new audiences which would not otherwise be able to see the presentations. The design to create different fashion experiences and make them available to the interested public has been borrowed from other fashion weeks like New York, London, Paris, Miami and Sydney.
Sponsors
This edition of MBFWMadrid had 19 sponsors whose support was essential to its success. The main sponsors were Mercedes-Benz, L'Oréal Paris and Inditex. The others were Allianz, Iberia, Thompson Madrid and Multiópticas; and its collaborators were Dorsia Clínicas, AEG, Community of Madrid, Mar de Frades, Martin Miller's Gin, Málaga de Moda with the corporate identity of the Provincial Government of Málaga, ESNE Universidad de Diseño y Tecnología, Rowenta, Schweppes GHD, Morocco as the Official Destination and Solán de Cabras.