First version in Latin America:
MOTORTEC CHILE 2022 concluded with more than 3,000 attendees and exhibitors highlighted the concretion of commercial ties
It was held from October 6 to 8, 2022, at the Espacio Riesco Convention Center in Santiago de Chile.
The first version of Motortec Chile 2022 ended with a Technical Olympics, a meeting that brought together more than 3,000 aftermarket professionals around an extensive program of activities, where they enjoyed the latest trends and innovations in the sector.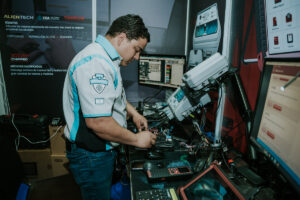 The winner of the contest was Hans Arenas, a second-year student at the DUOC UC institute, while second place was declared a tie between Ángelo Iturra and Félix Rivera, from the AIEP Bellavista campus and DUOC UC Maipú campus, respectively. Fourth place went to Raúl García, from the AIEP institute.
Claudio Larenas, organizer of the Motortec Chile 2022 Olympics and current professor of Automotive Mechanical Engineering and Autotronics, DUOC UC Maipú headquarters, commented that "I appreciate the opportunity to participate together with AIEP in the organization of this project, which we hope next year will still have. more participation from the academy".
Likewise, Larenas highlighted that "continuous development and education for our professional technicians is the future of tomorrow. This meeting gave us the chance to verify that we are at a very high level, worthy of one of the most important aftermarket fairs".
Luis Mellado, member of the jury and head of technical and after-sales assistance at Citroën Chile, joined the same analysis, who thanked these spaces to measure the capabilities of the professionals who "will be in our workshops tomorrow."
"It has been a pleasure to have been a jury member of the first Motortec Chile Olympics. I hope that these instances that greatly favor students continue, so that they can perform in all areas, such as electricity, which is going strong. They are key instances to have more experience and perform better in their work tasks," said Mellado.
For their part, the exhibitors made happy accounts and highlighted the high level of the organization, which resulted in the participation of more than 3,000 professionals during the development of the three days.
This was highlighted by Daniel Fellhandler, general director of Total Energies, who said that "it was a great opportunity to show our range of lubricants for electric cars, accompanied by technical talks on electromobility that sought to explain what this energy change that we are leading in the world, having sustainability as corporate support".
For her part, Mariel Torribilla, commercial manager of Matsumoto, one of the largest importers of spare parts and accessories, assured that "the experience lived has been totally fruitful, since we have had the opportunity to create and strengthen commercial ties, both with customers old as new. We are very happy".
David Morgado, general manager of DMG Ingeniería and specialist in clutch manufacturing, highlighted that "participating in this fair has been spectacular, in fact, it exceeded all our expectations. It was a great experience."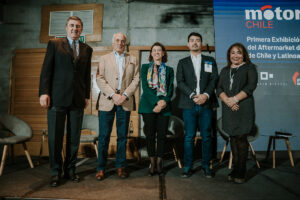 Motortec Chile offered a wide and diverse range of conversations and technical talks, which added hundreds of attendees who learned about the latest trends and innovations in the areas of spare parts, auto parts, services and automotive equipment.
Finally, the meeting considered the Congress of Latin American Chambers of the Andean Zone Replacement, where experiences were shared and the market in Ibero-American countries was analyzed, combining future joint actions.
Carlos Pineda, president of the Association of the Automotive Sector and its Parts of Colombia (ASOPARTES); Roger Flores, President of the National Chamber of Aftermarket Importers of Venezuela (CANIDRA); Karla Reinoso, Manager of the Association of Automotive Companies of Ecuador (AEADE); Patricia Miano, General Manager of the National Association of Terrestrial Transportation of Peru (ANATEC); Hernán Quezada, President of the Chilean Chamber of Commerce for Automotive Parts and Accessories (CAREP AG); Ana Sánchez-Terán, Director of IFEMA Madrid and, finally, María Begoña Llamazares, Head of Markets at SERNAUTO, Spain.
The trade union meeting of the world of transportation and spare parts had the same tone, attended by the Chilean Chamber of Commerce of Automotive Spare Parts and Accessories (CAREP A.G.); the National Chamber of Commerce, Services and Tourism (CNC); the National Confederation of Truck Owners of Chile (CNDC) and the National Confederation of Freight Transport of Chile (CNTC).
The union meeting was also integrated by the National Federation of Rural, Interurban, Interregional and Internal Passenger Transport (FENABUS Chile); the Association of Interprovincial, International and Industrial Buses (ABI); Chile Transporte and CONATACOCH, who discussed the future of the sector in the face of current challenges.