Not to be missed…
MONDAY, MARCH 6th
10.00 am-11.30 am Young Butchers Competition.
After the success of the first edition, it is impossible not to give continuity to the competition which highlights the new generations of the sector and encourages the generational change in the sector. This year, the three candidates, under 35 years of age, who pass the pre-selection phase, will compete in two competitions:
Iberian pork butchering.

Presentation of artisan poultry meat products.
Omar Jamarillo
Torrejón de Ardoz (madrid)

Verónica Escobar Dorado.
Valencia

Abel Somoza Arias
Sarria (Lugo)
1.00 pm-2.30 pm Masterclass Xesc Reina.
This year we will be accompanied by the father of the reinvention of sobrasadas, the most creative, mediatic and avant-garde artisan charcuterie maker in our country: Xesc Reina.
This "creator of flavours and sausages" will delight us with an innovative masterclass that is out of the ordinary, exposing new artisan scenarios and "clicking" in the minds of the audience.
TUESDAY, MARCH 7th
1.00 pm-2.00 pm Meat pastry tasting with Mickaël Chabanon
Mickaël Chabanon, French butcher, winner of the MOF (best worker in France) award and world champion in the specialty of beef, will present some of his meat specialties and give a tasting of some of them.
3.00 pm-6.00 pm Beef butchering exhibition Mickaël Chabanon - World Champion in Beef preparation
The winner of the award for the best beef preparation at the last World Butcher's Challenge in Sacramento (USA) in 2022 will be present to give the same demonstration that made him champion a few months ago at the prestigious international competition.
Those present will be able to see first-hand, and live, a cutting of a beef carcass.
.
WEDNESDAY, MARCH 8th
10.30 am-11.30 am Women's round table discussion
This is the IV Meeting of Women organized by Educarne and will feature 3 exceptional protagonists who will talk about their experience in the sector, under the theme "women's leadership in the meat sector".
Raquel Vañó
Manager of El Gourmet in Bañeres
de Mariola (Alicante)

Lucía Velasco
President of the Asturian
Cattle Raisers Association

Elma Fernández
"Carnívora Gourmet" Digital
Marketing Manager of
Rubiato Paredes
12.30 pm-2.00 pm Best Artisan Burger Competition
After the success of the first edition, not only in terms of attendance, but also in terms of participation, we believe it is essential to repeat the contest that highlights the true artisan hamburger of Spain, the one that values unique and innovative recipes made with care and with its own seal.
As in the first edition, there will be a pre-selection among specialized stores nationwide, and only three will reach the final at Meat Attraction.
Alberto Martín
Tauste (Zaragoza)

Andreu Coll
La Cellera de Ter (Girona)

Javier Caballero
Los Garres (Murcia)

Bruno Casal
Narón (La Coruña)
TUESDAY, MARCH 7th
10.30 am Inauguration and presentation of the conference
María José Sánchez. Director of Meat Attraction
Giuseppe Aloisio. Deputy Secretary-General of ANICE
10.55 am New consumer trends
Pere Vives. Director of Business Expansion in Kantar Worldpanel
11.25 am The distribution of meat and meat products in Spain
Felipe Medina. Technical General Secretary of Asedas
Aurelio del Pino. President of ACES
María Cruz Vaca. Director of Economic Affairs of ANGED
María Sánchez. General Manager of Carnimad
12.30 pm Closing
Some faces of #DistriMeat 2023
María José Sánchez
Director of Meat Attraction

Giuseppe Aloisio
Deputy Secretary-General
of ANICE

Pere Vives
Director of Business
Expansion in Kantar
Worldpanel
Felipe Medina
Technical General Secretary
of Asedas

Aurelio Pino
President of ACES

María Sánchez
General Manager
of Carnimad
MONDAY, MARCH 6th
4.00 pm-6.00 pm Sustainability and Cost Savings in Meat Industries
We will discuss how meat industries can face the increase in costs and the demand for a lower environmental impact in order to be more sustainable. This requires a continuous process of innovation and changes both in their purchasing policy and in their facilities.
We will analyse what improvements they can implement to reduce their cost item, as well as the strategies they can develop to reduce their environmental impact.
Speakers:
Sergio Martín, technician at the Spanish National Association of Meat Industries (ANICE) and president of the Meat Sector Working Group of the Food for Life Platform.
Carlos Ballesteros, Director of the National Association of Energy Services Companies (ANESE).
Roberto Ortuño, Head of Food Safety at Ainia.
Manuel Lainez, director of Lainez Biotrends on behalf of Provacuno.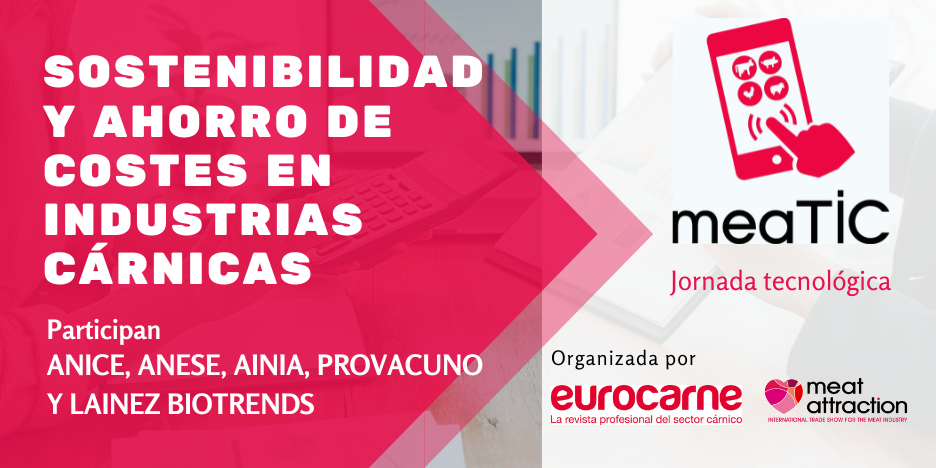 TUESDAY, MARCH 7th
4.00 pm - 6:00 pm Automation and robotisation in the Meat Industry
FIRST BLOCK
Moderator:
Jesús Cruz, director of eurocarne.
Robotics in the meat industry - opportunities and challenges
Ralf Schneider, Business Development Manager. General Industry - Food & Pharma. KUKA.

Exoscarnes Project: human-robot interaction for meat cutting
Juan Antonio Corrales Ramón, Postdoctoral Research Fellow-Beatriz Galindo Program at the University of Santiago de Compostela.

Artificial vision for meat and meat product identification
Alberto Gómez, CEO of Grabit AI

SECOND BLOCK
Moderator:
Enric Forner Clavijo, CEO of GREX World Congress Enric Forner
Robotics in the meat industry
Pablo Fernández. Commercial Director of General Industry. ABB.
4.0 management of the poultry chain
Eneko Ugalde Iriondo, Director of the Autonomous and Intelligent Systems Unit. TEKNIKER.
Palletising robots for the meat industry
Gonzalo García Santacruz, Senior Industrial Engineer. Co-founder and Commercial Director of ATLAS ROBOT.
Improving beef traceability.
Carlos Callejero, General Manager of DIGITANIMAL.