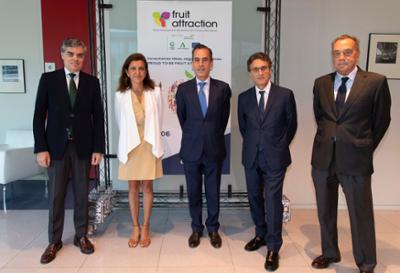 Fruit Attraction 2022 breaks records and cements Madrid as world fruit and vegetable capital
The fair was presented at a ceremony this morning attended by Fernando Miranda, Secretary General for Agriculture and Food - Ministry of Agriculture, Fisheries and Food; Vicente Azpitarte, Delegate of the Andalusian Regional Government in Madrid; Juan Arrizabalaga, Director General of IFEMA MADRID; José María Pozancos, Director General of FEPEX; and María José Sánchez, Director of Fruit Attraction.
The Fair, organised by IFEMA MADRID and FEPEX, consolidates its global leadership by surpassing the figures seen in 2019, until now the most successful edition in its history, with 1,800 companies from 55 countries, more than 58,000 m2 of fruit and vegetable produce on offer and an expected attendance of 90,000 professionals from 130 countries. The 14th edition of Fruit Attraction will take place from 4 to 6 October, occupying 8 halls at the Fairgrounds As a new development, the fair incorporates the figure of Fruit Attraction Guest Region, starting with Andalusia.
Read more